"Music is a moral law. It gives soul to the universe, wings to the mind, flight to the imagination, and charm and gaiety to life and to everything."
Plato
I love Music - all types of music.
Depending on my mood, and whats going on, I select, what I want to listen to.
I just listened to this wonderful song, a great tribute to Nelson Mandela, I loved it from the first moment, it touched me, and I keep on playing it since I first listened to it this evening:
VICTORIA - Ils se sont levés (Tribute Nelson Mandela)
I had to share it with you, as I think its beautiful, love it!
One of the bands I admire most is Maná. Of course, one reason might be, I love Méxcio, la onda de la vida mexicana, lived there for 8 months, met wonderful friends there, so many years ago. With most of them I am still in touch. I met one of my dearest friends, and no matter if we don't see each other for two or three years. The moment we meet we connect, have great conversations and crazy parties. This is to you bruja, te quiero mucho amiga!
Mexico was my second time abroad for several months , way back in 1998 when Playa del Carmen, Yucatán, Quintana Roo, México was still this little dreamy paradise. There was basically one bar, where you met EVERYBODY almost every night. And there was Capitán Tutix, THE dance place to go by the sea. Great memories 🙂 And I know, everybody who has been there during that decade will have a smile on their face and memories will pop up.
One great memory is Manás music. Maná is a Mexican band. Well, its actually THE Mexican band. Famous and popular all over Latin America, in the US, in Spain and even outside of Spain in Europe. Love their music, love their dedication to support and how they use their fame to influence politics, to protect the nature of their beautiful country in Mexico, to fight for the rights of the weakest. If not for their music, I love Maná because they feel responsible to influence with their fame and success to change the world into a little better place.
I have seen them live 2013 in the Estadio Velez in Buenos Aires, Argentina. What an amazing night, what a fabulous amazing concert! Fher Olveira, que carisma!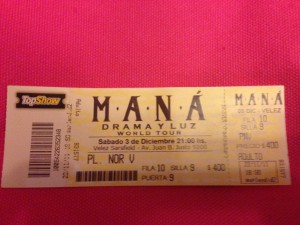 There is another band of many great artists that I got to know.
They are performing in the streets of New York. Its an Acapella Soul Band, and thats her name:
Acapella Soul
I first listened to them on January 11, 2014. I was in NewYork to meet someone special. We've been out in Greenwich and there they were in the street performing. We stopped and listened to them for almost an hour. I bought two CDs and love listening to their music. Funny though, in May, when I was in New York, again on a Saturday afternoon, accompanied again by the same person as in January we run into Acapella Soul again. Well, not that big of a deal I guess.
But listen to this:
My first day in New York after my arrival, I go to Union Square to get familiar with NYFA. From their to Batterie Place. First stop in the subway. Acapella Soul enters, in my train, and start singing in front of me. It was as if they would welcome me to this city I love.
Call it coincidence or fate. It definitely made my day and I loved it!
So much more to say about Music, have you ever heard about El Tri? El Tri is one of the oldest if not the oldest Mexican Rockband. I have seen them live years ago, and it was great fun.
That said: lets not talk about it, listen to some of your favorite songs, and pamper your soul!
If music be the food of love, play on.
William Shakespeare
Keep on singing and dancing, xoxo
GGG