GGG Thanksgiving dinner 2014
Thanksgiving is a mission, a mission to deal with lots of food I guess. It was my first Thanksgiving dinner. I think it was not the very typical thanksgiving, but I would not have traded it for any other.
We were eight.
First we had cocktails, bubbly and some starters like salmon, cheese etc. It was a gift to me to see my wonderful friends in San Fran again, since I had just arrived two days before the big holiday. My dear friend in San Fran a true GGG is the one who came up with Global Gals on the Go. This one is not only a wonderful and entertaining person, he has become one of my closest friends during the last 8 years. That's how long we know each other. Most of the time, I have been in Europe and he in San Fran. Well let's say that's our residences, but Miss Mission, or probably Miss San Fransisco has come to Europe, Asia and who knows where uncountable times. I have been to the Americas, North and South quite often, as well as a couple of times to Asia and Africa. Well the Global bitch of San Fran is not only the Queen of the Mission, she is funny, hilarious, loves to play the bitter and cold, but in fact she is lovely and wonderful and I am so grateful that our pathes have crossed and I met a wonderful friend. Let's call her "the Queen of the GGGs".
Beyond that I met her friends, who are just wonderful, too. Let me introduce you to the colorful world of the GGGs:
One of the Gals, Miss Korea was in Seoul for Thanksgiving, missed her! But Madame Seoul was back after the holidays! I know her for almost as long as the Queen! OMG! They have been roommates when I first met the Queen. You have no idea how much fun it was and still is to be at the famous mansion in the Mission, where I again was guest this time for the big American holiday.
At Thanksgiving dinner table we had one of my favorite couples, Miss Dublin and Miss Hawaii. A lovely wonderful couple happily together for 20 years. The way they interact is full of harmony after all those years. Of course they are having their disagreements, as every friendship and partnership. But they are one of the ones that are ment to be together. I love talking to both of them. The husband a former Editor in Chief now Publisher of a Bay Area magazine. So smart! So much knowledge! Such a wonderful person! And someone you always have a great conversation with! Miss Dublin, funny, witty, cute, a wonderful person to talk to. So easy to hang out with him, you cannot but must like him!
Then of course, there is Miss Brazil! Flora! Lovely, spiritual, big true heart, funny, singing, carrying, and an amazing life story that will be the base of the book I am going to write next! Flora, I love her! And she just found the right book to give to me, that matched my state of "I still haven't found what I am looking for, but am feeling I am closer to it than I have been during many years" Flora is in love and I have never seen her so happy, although she is always so much fun to hang out: la brazileira, of course full of joy and temperament!
Sweet Meiling had the hardest job, she prepared the turkey. It was soooo good! Meiling is Chinese, a very sweet, carrying person, hard-working -probably to hart sometimes- and whoever will be the lucky one falling in love with her and be loved by her, will be a very lucky fellow. She is a sweetheart!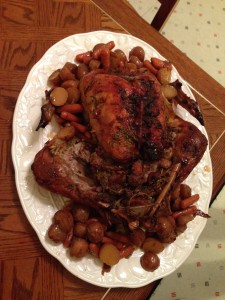 Last but not least there is El Camaron. The partner and future husband of the Queen. "He is the cutest thing on the planet!" the Queen said about her love, and there is nothing to add! El Camaron is a decorator and merchandiser. His job is art, but if you only look at the amazing decorating we had, then you understand, it's his passion. I love having him around and I love watching how the Queen calmed down and is truly happy since they met approx 4 years ago.
I feel blessed after a lovely Cocktail hour in the Mission Mansion followed by a amazing dinner, with tasty Malbec and great conversations with a group of interesting wonderful people. Happy Thanksgiving everybody!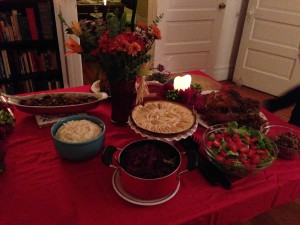 ....Did you realize: Talking about 8 people, and there are eight nations, so GGG
xoxo